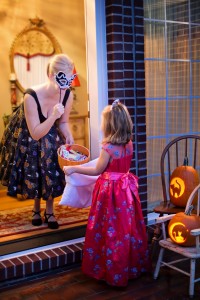 It's October, the month of pumpkins, costumes, and candy. Lots of candy. Last year Americans spent $2.9 billion on Halloween candy, an amount which translates to hundreds of millions of pounds of the sweet stuff. Many of us don't give a second thought as to where it all comes from, nor does the mainstream confectionery industry readily offer us consumers the sour details of its dealings.
The unfortunate truth is that the conventional chocolate industry unethically uses child labor — and even slavery — in parts of West Africa where the vast majority of the world's cocoa supply is grown.
That's scarier than a haunted corn maze.
While it's fun to partake in the autumnal tradition of passing out candy to trick-or-treaters (not to mention indulging ourselves in a peanut butter cup or five!), we'd rather not perpetuate an industry which exploits children. What's a conscious consumer to do? The answer: exercise our purchasing power to support fair trade, local, and healthier alternatives to traditional Halloween candy.
Fair Trade Chocolate: Buying certified fair trade chocolate helps to divest from businesses and farmers who employ illegal child labor. Equal Exchange is a cooperative that has been a leader in the fair trade movement for over thirty years. Their bite-sized, individually wrapped chocolates may be ordered at their website, here.
Organic Fruit Snacks: You may choose to avoid the chocolate trade altogether and opt instead to hand out fruit snacks. Stretch Island, for example, offers organic, non-GMO, real fruit snacks that can be found in many grocery stores or ordered online.
Local Honey Sticks: Support your community beekeepers by swapping out the store-bought candies for locally produced honey sticks. Consuming local honey offers the added benefit of seasonal allergy prevention, too! The Will County Beekeepers Association provides a listing of their members who sell honey, here.
Our purchases have the potential to send a powerful message against global injustices. This Halloween, boldly set an example of social responsibility, while still satisfying the sweet-toothes of those darling trick-or-treaters.