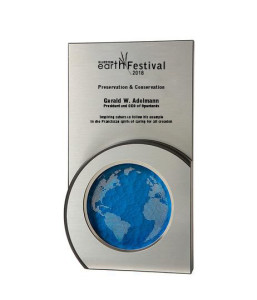 The Bluestem Earth Festival Award recognizes an individual or organization who by example, leadership or advocacy, has demonstrated a commitment to building a more resilient, sustainable and socially equitable community as reflected by the corporate stances of the Joliet Franciscans.
"Inspiring others to follow in the Franciscan spirit
of caring for all of creation"
2019: We are amidst the approval process of the 2019 Bluestem Earth Festival Award recipient. Check back in the coming months for announcement information.
2018:
Last year, Bluestem Earth Festival and the Joliet Franciscan Sisters were honored to present the 2018 Bluestem Earth Festival Award to Gerald W. Adelmann, President and CEO of Openlands. The award was presented to Mr. Adelmann, Sunday, April 8, 2018 at the University of St. Francis at an invitation-only award dinner.
The award given to Jerry Adelmann is made by Rivanna Natural Designs. The company was founded in 2001 to create green jobs for refugees and others in our community who needed safe, meaningful, and rewarding employment. They use FSC®-certified wood, FSC® Recycled Richlite and other planet-friendly and recycled materials in their products. Rivanna Natural Designs is 100% woman-owned.
Table plants for award dinner are a native species from the Possibility Place Nursery, Monee, Illinois.